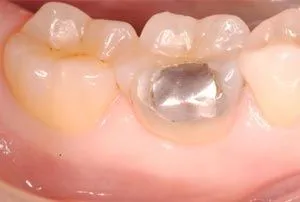 No longer do you need to have "silver" fillings creating dark holes in your smile.
Dr. LeBlanc can place natural colored inlays and onlays, which are strong, decay-resistant and less traumatic than conventional metal fillings.
Dr. LeBlanc can create healthier, whiter smiles with this very strong, ceramic material. Conventional "silver" amalgam material can hide decay and weaken the natural tooth. Metal fillings are inserted (plugged in) after the dentist drills away part of the healthy tooth. Ceramic-type inlays and onlays bond to the tooth or "fuse" with minimal removal of healthy tooth. Over time, a crown may be needed if the natural tooth breaks or is weakened because too much decay and/or tooth structure has been removed. Bonded inlays and onlays can save more of your natural tooth for many years to come.
Let us show you some of the differences with our intra-oral camera. Today's dentistry means a beautiful smile and superb health.