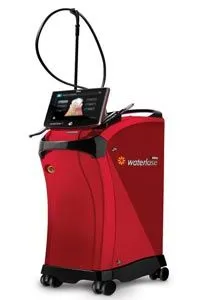 Laser dentistry is the latest innovation in dental treatment. Dental lasers are modifications of medical lasers that have been in use since the 1960s and are a safe and effective treatment for a variety of dental problems. Using a beam of concentrated light energy, lasers can treat gum disease, de-sensitize teeth and even whiten teeth. The preciseness of the light energy, directed exactly where it is needed, is a trait uniquely associated with laser dentistry.
The beneficial effect of lasers has been confirmed by years of research in medicine and, in the last ten years, by researchers in dentistry. Particularly in the area of gum disease treatment, lasers have been shown to be an amazingly easy and effective tool to eliminate the need for conventional gum surgery.
In most cases when lasers are used, pain is either eliminated entirely or significantly reduced as a result of the lasers selective, precise control. With laser dentistry one of the advantages is the need for minimal or no local anesthetic.
In addition, when performing many of the procedures the laser also kills bacteria in the mouth. Laser treatment also results in less bleeding, post-op pain, discomfort and less trauma. Lasers also promote healing which minimizes any discomfort usually associated with surgical dental procedures.